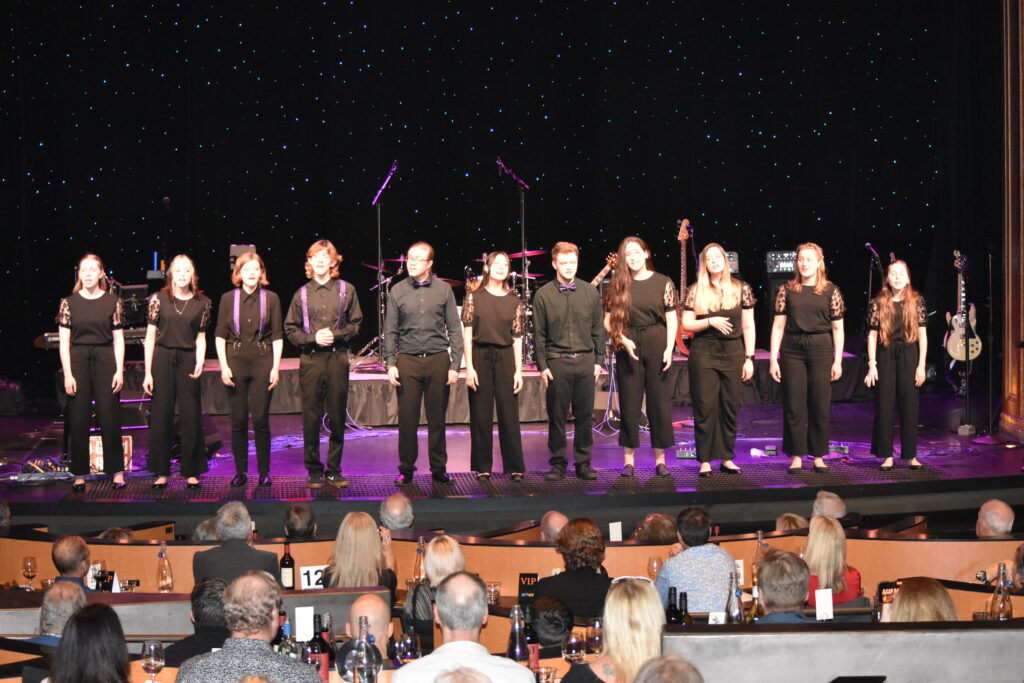 Play it Forward is an annual gala and concert.  Guests include CEOs, business owners, entrepreneurs, and professionals from companies such as Microsoft, Costco, and Holland America.  The banking community, as well as the legal, financial and insurance professions also attend.  Many of our local and international musicians contribute their talents at the event to support music education as well.
Proceeds benefit Washington State's K12 music programs and are awarded through a grant request program administered by MANW and WMEA.  In 2022, public schools throughout the state were awarded over $400,000.  These grants helped schools, generally in rural and underfunded areas, purchase instruments, sheet music, choir risers, and music stands. In some instances, the school music program was saved from complete elimination due to lack of funds.    
Stepping up as the sponsor of Play It Forward offers a unique and valuable way to gain exposure across the state to public-school administrators and music teachers and to show your support for our community and local artists.  Music fans, students and teachers throughout the state will thank you!
We greatly value your consideration, and we look forward to the opportunity to work with you.
To learn more about our sponsorship opportunities, please contact Shelley Tomberg, at shelley@musicaidnorthwest.org.
Benefits

Sponsorship Level

Presenting
Platinum
Gold
Silver
$15,000
$10,000
$5000

$3000

Number of Rock Star and Live Band Tickets in package

12 Rock Star
Level Tickets
8 Rock Star
Level Tickets
4 Rock Star
Level Tickets
4 Live
Band Tickets
Premium table placement and premium wine at event

First row or first choice

First three rows

√

General seating and wine at event

√

Company logo on all promotional materials, invitations, programs, and on screen at the event

√

√
√

√

Company website linked on MANW website and on Play It Forward event and registration pages

√

√
√

√

Public recognition from the podium by the host

√

√

√

√

Opportunity to perform with the closing band

√

√

√

Invitations to attend the Wrap Party in the spring following Play It Forward with other sponsors and large donors

√

√
√

√

Ads in the on-line statewide

Washington Music Educators Assoc. magazine "The Voice"

2

1

$500 dedicated to transportation, parking and meal assistance for students performing at Play It Forward and recognition as being a sponsor of per diem costs

√

√

"Presented by" your company name on all promotional materials, program, invitations, social media, and on photo backdrop at event

√

Opportunity to address audience from the stage for three minutes

√

Company logo on the back of all bid cards

√

Press release announcing your company as the presenting sponsor and posted on all MANW social media channels

√

Opportunity to present checks directly to schools in convenient locations, generally at assemblies and school gatherings

√

Company logo placed on all large checks at school grant presentations across the state

√