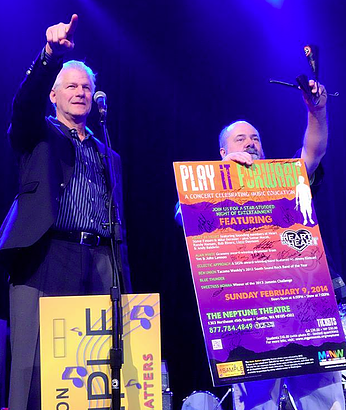 Five days following the devastating Tsunami that hit Southeast Asia on December 26, 2004, a group of friends attending a New Year's Eve party in Seattle took up a collection and donated over $500 to the World Vision organization to help with relief efforts. Next, they organized a benefit concert in January of 2005 and raised another $10,000 which was donated to C.A.R.E.
This diverse group of friends, all with ties to the music community, recognized their powerful combination of music and philanthropy and agreed to pool their resources to benefit music education in Washington State. Music Aid Northwest was born. The organization then partnered with the Washington Music Educators Association (WMEA) to gain direct access to music teachers across the state.
In 2010, Music Aid Northwest was granted the legal right to raise money through offering specialty license plates under a program called "Music Matters." The first plates became available in 2012. Currently there are over 2200 colorful Music Matters plates on the road. These sales produce over $60K per year for our state's music classrooms.
In addition, we started the "Play It Forward" concert series where students from area schools, and local and national musicians perform for the benefit of music education. This annual fundraiser sets record fundraising growth year after year.
Funds raised through the Music Matters license plate project, and Play It Forward are distributed through a grant process administered by WMEA and Music Aid Northwest. Teachers, particularly in underfunded areas, with the support of their administrators, are encouraged to apply for these funds. To date, Music Aid Northwest has donated over 1.5 million to nearly 200 music classrooms in Washington.
An example of a grant recipient is the Prescott School District near Walla Walla. Our funding of a $6,500 grant request allowed the music department to purchase musical instruments for its entire school program. Prior to our scholarship, the high school band program was non-existent, and the elementary program was in dire need of functioning instruments. With our help a K – 12 music program is now functioning and blossoming.
This is just one example of the schools across our state that are benefiting from your donations and your purchases of the Music Matter license plates.
Please continue to support this important funding source for music education in Washington state schools. These dollars will never be moved into other programs or removed due to a budget deficit.
Thank you for all your support!